ALFA RACERS

We've been involved in supplying parts for Alfa Romeo race cars since around 1970 when we sponsored Wally Saunders in UK based AROC championship events. Since then we have supplied parts for Alfas destined for all manner of events all over the world.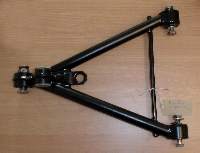 Looking back through hundreds of pictures of our customers competing their Alfa(s) it becomes readily apparent that almost every type or model of Alfa has been entered in some sort of competition, whether it a friendly treasure hunt, a rally or a full blown championship event. We have supplied rally/race parts for the Giulietta range, 2600s, Giulia saloons, 105 series GTV coupes, Spiders, Alfetta, GTV-6s, 75s and 164s. The list also includes special machinery like GTA, Tipo 33, Giulietta SZ and TZ.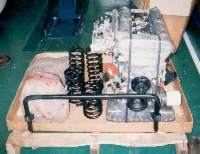 Over the years we've sent performance parts, even complete race, or fast road, engines, to almost every country that boasts a decent road and the merest a handful of Alfa enthusiasts. Looking through our records just some of the countries include, Japan, Australia, New Zealand, Hong Kong, Singapore, Thailand, USA, Canada, Brazil, Chile, Argentina, Colombia, South Africa and throughout Europe. When someone buys an Alfa they inherit a small part of a unique racing heritage that inspires further commitment to compete on road, track and circuit. For over 35 years we have cultivated such conviction by providing a worldwide supply of tuning and race components.
| | | |
| --- | --- | --- |
| Light Weight - Step Front Panel | For Alfa racers we have supplied the general hardware, such as pistons & liners, camshafts, manifolds, clutches etc., but special items include complete rebuilt engines, suspension components, heavy duty Alfa spec sump guards, bushes, brakes, even lightweight body parts-for Bertone 105 series coupes. | See Sump Guard |
| | |
| --- | --- |
| | RACING OR RALLYING A 105 SERIES ALFA ? Under racing or similar conditions it is essential to have rapid directional control. Bearing this in mind our modified steering arms have been especially designed to gear-up the steering-less turns of the wheel being required. (The picture shows original length steering lower and modified short arm above) |
| | |
| --- | --- |
| ADJUSTABLE TOP ARMS-another essential requirement for a race/rally car. We are the UK supplier for the well-known Regina adjustable upper control arms known for long-life and durability. Being able to easily adjust the camber is of paramount importance to every serious racing mechanic. The arms can be supplied with a nylon caster rod bush, with steel centre pin, and with the old 1960s GTA modification (for extreme stiffness) using a case-hardened steel inner bush with neoprene self-lubricating centre. Don't pay more for inferior products, specify Regina adjustable top arms for your racer! | |

See also our link to--- CAMSHAFTS and to , SUSPENSION. and GEARBOX MOUNTS
also CSC Big Bore Exhausts and Plate type Limited Slip Differential