Alfa Romeo 156

It is easy to see why the 156 is the top selling Alfa as it offers an unusual combination of looks, comfort and performance. But there is always room for improvement which is why we are now offering the upgrades listed below. Our two main aims have always been to provide a service second to none AND reduce high running costs experienced by owners of older Alfas.
ENGINE PARTS.
16v engine parts---oil filters, sparking plugs, gasket sets etc
V6 engine parts---oil filters, sparking plugs, gasket set, oil pumps, water pumps and radiators..
TENSIONER PROBLEMS---- high mileage, well used, cars can experience belt tensioner failure---usually a costly experience! Also, valves, guides, engine bearings etc. Be sure to buy your tensioner parts from us---save money! (see Camshaft locking tool )
Limited slip differentials see Q2 LSD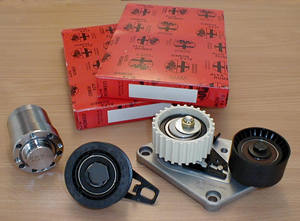 TUNING
We are the UK agents for Colombo & Bariani and can offer the very latest version of performance camshafts for your Alfa Romeo. . (See Camshafts)
AIR FILTER SYSTEMS
FUEL INJECTION
Air flow meters, CO sensors, idle speed actuator.
BRAKES
Grooved/ventilated discs (16v and 2.5), Superalfa brake pads. (See BRAKES).
WHEELS
SUSPENSION
EXHAUST
Superb tail pipe/silencers by CSC of Italy. Black mat finish, individually wrapped, fully guaranteed, large 9 cms stainless steel outlet pipe either oval or round shape. Gives the 156 a purposeful look and improved sound. Available for 16v and 2.5 engines. Further details on CSC exhaust page.
BODY PANELS
WORKSHOP MANUALS
Check the news pages for the very latest parts information