ABOUT 'EB SPARES LTD'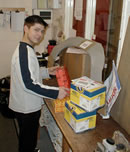 In May 2006 David Edgington retired from EB Spares ltd, and the company is now in the hands of Kevin Abigail.
Kevin joined EB Spares in 1990 and helped David expand the business, after moving to purpose built premises in 1991. The business still carries a huge stock of parts for the classic 105 and 116 models, but now also supplies parts for the new age of Alfa's including 147,156 and GTV/Spiders. We also see history repeating itself with the supply of used and reconditioned parts for cars under 10 years old, making up an ever increasing part of the business.
Despatch manager Jason Starkings, who after 10 years at EB has a fantastic reputation for selecting the correct parts and getting them packed for shipping, be it next day in UK or to one of the far flung corners of the world, assists Kevin in the day to day running of the company.
---
EB Spares history.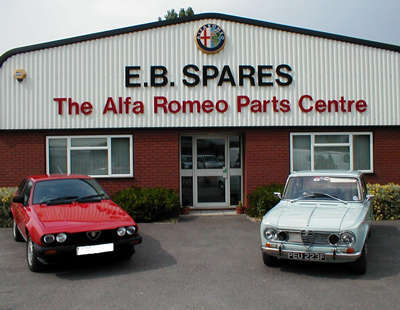 The business was founded in 1969 by Davids' Edgington and Butcher, hence the E and B--although the origin of the name has been misconstrued on many occasions resulting in such humorous offerings as 'every bit' (quite flattering but alas not true), and Eggs for Breakfast'.
At the time the business was formed the two partners had spent their working lives in the motor trade. David Butcher was a mechanic at a local Jaguar and Standard Triumph Dealer while David Edgington had been with Rob Walker's well known racing and sports car garage at Corsley in Wiltshire. It was David 'E' who initially provided the Alfa experience thanks to a very hectic five year period at the well known Corsley Garage , Britain's top Alfa Romeo Dealer at the time.
He arrived at Rob Walker's Garage at a time when the business was floundering and everyone involved had to pull twice their weight in order to save the day. His 'two' jobs during the first couple of years involved assisting the service manager during the day and selling cars during evenings and weekends. A normal weekday would involve handling service bookings and warranty claims until 5 pm and then it would be off to Bristol or Southampton to deliver a new Alfa Romeo Sprint, or Giula Spider.

At this time Alfa Romeo (Great Britain) consisted of a small office in London's Sloane Street with just a handful of staff to oversee the whole of the U.K. operation. Alfa Romeo spare parts were handled by Bristol Siddley , a third party which both imported and distributed them to the half a dozen main dealers, including Rob Walkers. The handling of the spare parts situation left a great deal to be desired so an arrangement was made between Alfa Romeo and Rob Walker's garage to set up a main spares outlet to supply the whole of the U.K. At this time the existing partsman decided to leave so David Edgington was asked to set up the operation. Within two years the stock level was around £100,000 (a great deal in those days) and David, now promoted to manager, required a staff of six to handle the vast turnover of Alfa spares. If only he had put aside a few Giulia SS bumpers or GTA parts ...!!
It was from this background that David Edgington, along with David Butcher, set up E.B. Spares in buildings behind a scenic farmhouse in the village of Seend near Devizes in Wiltshire. A reputation was soon built by offering both new and secondhand Alfa parts with the latter being absolutely spotless and fully guaranteed. Cylinder blocks, heads and sundry other parts were only sold if totally unmarked and immaculate. Looking back David Edgington feels that they went too far in this respect but parts were bought without question even by specialists with a critical eye, and even Alfa Romeo GB. An exchange gearbox service for 101 and 105 series cars was another success story with Alfa dealers again being high on the customer list. Each box received a full set of bearings, a 5th/ reverse selector, synchro rings as required, plus replacement of any gears which were even slightly marked. The price was only £45 which included a full guarantee!
As business for the partners expanded so the need for larger premises increased, and after two years a move was made to the Wharf, Bradford on Avon. During this period a number of cars were sold on behalf of customers, including 2600 Sprints, Spiders and Berlinas, Giulias and Giuliettas; and among the more unusual, a 1900 Super sprint , a Giulia TI Super and a genuine ex-works Alfa pick-up truck powered by a 750 Giulietta engine ....where is it now ?
In the mid 1970's the business was transferred to Westbury and at this point the decision was taken to concentrate solely on the sale of new Alfa spares and to phase out used parts and car sales.
In 1990 David Butcher retired from the business and Kevin Abigail was employed.
In 1991 a purpose built warehouse was built on Link Road to enable further growth of the company, giving room to stock an even greater range of products.
November 2000 saw a further change as E.B.Spares became a limited company (E.B.Spares Ltd).