EB Spares Ltd - Alfa Romeo Parts & Spares

Phone:(UK) 01373 823856 - Intl.(+44) 1373 823856
Email [email protected]
31 Link Rd, Westbury, Wilts, BA13 4JB

Home
About Us
Latest News
Customers
Prices
Your Quote
156 SUSPENSION IMPROVEMENTS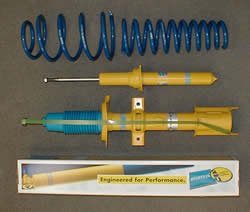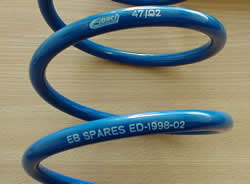 The 156 is a true drivers car intended for the personal driving pleasure of an Alfa enthusiast needing 4 seats---it is indeed a very special and popular sports saloon. Although road tests wax lyrical about almost every aspect of the car it is always the road holding that leaves room for improvement. Although there are several packages on the market intended for an average off the shelf application none (except ours) are the result of an extensive development programme between an ex-Alfa Romeo works driver and a world renown company dedicated to motor sport, chassis tuning and suspension development.
It is now possible to vastly improve the handling of your 156 while at the same time retaining a comfortable ride. Our specially valved Bilstein dampers have been developed by ex-Autodelta driver Rhoddy Harvey-Bailey in conjunction with two Germany companies--- Bilstein and Eibach.The Bilsteins are available for all 156 models except for those fitted with self-levelling suspension. They can be fitted on their own or as part of a full E.B.S. handling kit with springs----our 'blue' springs lower the height by 15mm on standard cars (Sports Pack cars are already lower). Our special 'blue' springs (available for 1.6, 1.8, 2.0 and 1.9 JTD) are also part of the development package by Rhoddy Harvey-Bailey and produced by Eibach of Germany with each spring carrying the E.B.Spares name as a sign of this three-way development.
If you are seeking to lower your 156 more than our recommended 15mm we can supply Eibach's own 30mm lowering set.
A full E.B.S. handing kit with Bilsteins and 'blue' springs will allow an enthusiastic 156 owner to achieve the best possible harmony between driver, car and the road. The kit enhances the cars driving characteristics while retaining both safety and comfort.
We also stock Powerflex replacement suspension bushes for the 156 range----now available for both front and rear.