EB Spares Ltd - Alfa Romeo Parts & Spares

Phone:(UK) 01373 823856 - Intl.(+44) 1373 823856
Email [email protected]
31 Link Rd, Westbury, Wilts, BA13 4JB

Home
About Us
Latest News
Customers
Prices
Your Quote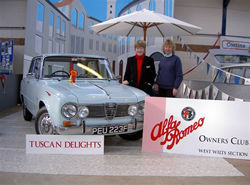 Click here to contact EB Spares
Phone (UK) 01373 823856 - Fax (UK) 01373 858327
Bristol Classic car show
On Saturday and Sunday (February 1st and 2nd) David Edgington's 1967 Giulia Super was exhibited on the Alfa Romeo Owners Club (West Wilts Section) stand. The theme this year was Tuscan Delights and for this an extensive backdrop was painted depicting an Italian street scene. An umbrella and table with typical bottle of wine and glasses added emphasis, as did the imitation cobble-like flooring. The importance of having an Alfa Romeo presence at an event like this was clearly illustrated by the number of people who stopped to pass comment. Although the Giulia is used most days during the summer months this was it's first outing this year.
The show proved a great success with the Alfa Romeo Club stand achieving a well-deserved red rosette 'Highly Commended' award.
The West Wilts Section of the Alfa Romeo Owners Club is run by, owner of many Alfas, Jeremy Upsall. Seen on the stand, with the Giulia Super, are Doreen Edgington and Margaret Browning.