Click here to contact EB Spares
Phone (UK) 01373 823856 - Fax (UK) 01373 858327
Alfa Manuals
ALFA ROMEO WORKSHOP MANUALS, PARTS LISTS
AND DRIVER'S HANDBOOKS
105 SERIES GTV, SPIDER and BERLINA 1300, 1600, 1750 & 2000
Spare parts catalogue (Catalogo rapido ricambi). 250 pages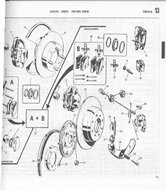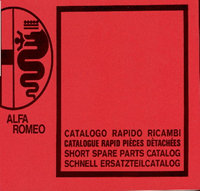 This 250 page parts catalogue is essential reading for every 105 series Alfa owner as it provides drawings and lists of parts needed to overhaul mechanical units, electrics and body parts. Every part has the old original Alfa part number. All chassis number changes are listed but most important is the interchange of parts factor---you can look at a part number and see if the part fits all 105 series cars or just your model---so useful when you are trying to source difficult parts! If you are living in a foreign country, and wish to order a part from us, but you do not speak much English then this catalogue will be very useful because you can read the description of the part and quote us the part number. We have sold hundreds of these parts catalogues. Every GTV, Berlina, Super and Spider owner should have a copy!
DRIVER'S HANDBOOKS
Copies of original factory driver's handbooks re-produced in A-4 size, with easy-clean plastic cover and 20-peg plastic binding designed for extensive use by the private owner. ALL WITH WIRING DIAGRAMS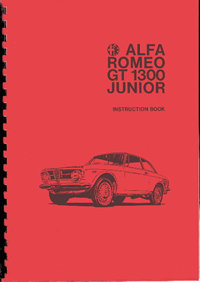 1300 GT Junior (step front) 1967-69.

1750 Spider Veloce (round tail) 1968-70
2000 GT Veloce 1972-76. 70 pages, card cover.
2000 Spider 1972-78 standard size, as original in colour.
A-4 size also available.

2000 Spider 1990-94 Series 4 as original, but with plastic cover. 92 pages.
WORKSHOP MANUALS
Save yourselves a great deal of expense by buying a workshop manual and then asking up to supply the parts---suddenly your Alfa will become cheaper to run.
ENGINE MANUAL, comprehensive for GTV-6, Alfa 75 V-6, Alfa 90 V-6. 80 pages covering engine overhaul procedure, specifications and technical details.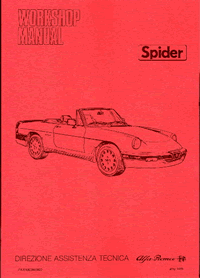 New Spider & GTV--- 16 valve engines. Very comprehensive set of workshop manuals, 3 very large volumes in 4 parts supplied in hard cover binders. Covers all aspects, engine, transmission, running gear, brakes, electrics, wiring, instruments. Don't tackle a timing belt change without these manuals---remember 16v tensioner parts are our speciality. This massive set of books weigh almost 9 kilos!
Spider 1985 to 1989 Series 3. Full factory workshop manual condensed into 1 large volume complete with a set of wiring diagrams. Bound in red card flexi-cover.
Spider 1990 to 94 Series 4. Full factory workshop manual, metal bound in card cover---the well know '50 state version'. Covers every aspect and with full wiring diagrams.
75 range and 164 available to special order.
TO ORDER YOUR COPY
Please email us for a carriage paid price stating which country you require us to send the manuals. We will try to find the most competitive method of transport.